In just a couple of weeks, I will officially get to take on the title of Auntie! I can't wait to welcome my little niece into the world, and this weekend we celebrated her impending arrival with a baby shower for her mama.
Ladies from four generations chatted and caught up after too long, enjoyed some yummy snacks, and gave gifts to help prepare the mama-to-be for her new little babe.
I can take very little credit for all the beautiful baby shower decorations and food you will see below, but I just couldn't resist sharing with you such a happy and beautiful day. Thank goodness for my sister's many amazingly talented and generous friends and my own mama who helped out! Get ready for some sweet baby shower eye candy!
The mom-to-be loves to go to frozen yogurt. We made an ice cream bar with all her favorite toppings.
Check out these cute little labels for the toppings that one of the girls made.
We used mason jars for drinking glasses with pink little ribbons. There were paint pins for the baby shower guests to label their glasses, so they didn't get mixed up.
A few weeks ago I told you about the adorable baby shower invitations I found at
Splash of Silver on Etsy
. Here are the ones we used for the baby shower.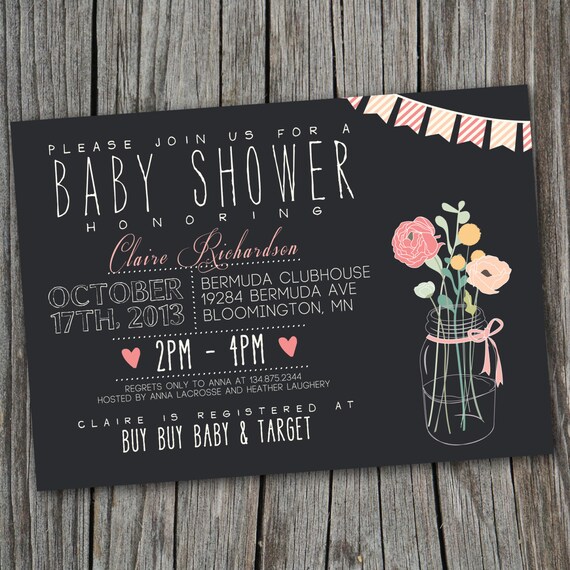 We loved the baby shower invitations so much that we modeled our flower arrangements after it, putting them in a mason jar with a little pink ribbon tied around the top.
Our goal was that most of the decorations could be reused as nursery decor. We double checked the nursery colors (grey, coral, white, and a tiny bit of aqua). We spied on her Pinterest boards.
One of her friends put together these cute picture frames with her maternity pictures and ultrasound photos modeled after this pin.
She is even going to hang these tissue paper poofs in the nursery as a sort of over-sized mobile.
As each baby shower guest arrived, we asked them to fill out an advice card offering their words of wisdom and encouragement to the mom-to-be. There was also a sign up for anyone who wanted to bring a meal to the new family once baby arrives.
What are your favorite baby shower ideas?