B y now you've probably heard the buzz about Grove Collaborative (formerly ePantry). It seems everywhere I look these days there's someone else talking about how amazing it is to have natural household and personal care supplies delivered to your door exactly when you need them, all for great prices.
I wondered though (of course I did), Does it really save money?
I had to find out!
In fact, I compared over 200 different natural products at 5 different online grocery stores so I could find out exactly how to save money on groceries with Grove Collaborative.
You already knew I was a little crazy, right?
Then I pummeled Grove Collaborative's customer service department with emails and questions and I signed up to try it for myself, so I could get the scoop on things like how to minimize shipping costs and how to make sure I never get (and pay for) things I don't need.
(Once I was finally satisfied, I became an affiliate.)
How to Save Money with Grove Collaborative
In this post, you'll find everything that I learned in my investigation into how to save money with Grove Collaborativey.
Grove Collaborative vs. The Grocery Store
First off, let's compare to the good ol' brick and mortar grocery store. Grove Collaborative beats the grocery store prices by 30% on average.
To put this into perspective, if I place a $25 order on Grove Collaborative, at an average of 30% off grocery store prices, I'm saving $10.71 on the products.
Plus, you save time and money on transportation by cutting out extra trips to the grocery store, which also cuts out unneeded impulse buys. Ya, you know the ones I'm talking about.
Online grocery shopping saves money in some pretty surprising ways. Don't forget to account for the value of your time (and sanity) that you would otherwise have to be figuring out what you need and running to the grocery store.
I really love the set-it-and-forget-it-ness of this program. More on that below.
Grove Collaborative vs. Amazon
Next, let's compare your other online options. You all know I love Amazon Prime for Saving Money, but Grove Collaborative has them beat in the realm of natural household products, by a long shot in most cases.
There is one small exception that I found. Amazon is slightly cheaper for natural laundry detergent.
The other issue with Prime in this case is that you usually have to buy a one or two year supply of any given product if you want to get a decent price. While you do get free shipping with Amazon Prime, Grove Collaborative's shipping is negligible when you consider the savings. (More info below on how to minimize your shipping cost with Grove Collaborative.)
So, if you don't want to try to figure out how to fill up your Amazon Pantry box, you don't want to buy a 2 year supply with Prime, or if you want natural products that aren't available on Amazon at all, then Grove Collaborative is the answer.
More Price Comparisons
You can compare prices for yourself on all 200+ natural household and personal care items from an array of online grocery stores in my Ultimate Natural and Organic Grocery Price List. Scroll allllll the way down to the bottom for the Personal Care and Household Supplies category. I've also included the EWG Score in the notes for any that were available.
Household & Cleaning
I made my own DIY natural cleaning supplies for years, and still do sometimes, but I just don't always make time for it anymore. I order almost everything Method brand from Grove Collaborative because it works well and offers unscented options on many of the products.
If you prefer Seventh Generation or Mrs. Meyers, Grove Collaborative has a full selection of both for comparable prices.
Can I tell you about one of my favorite things from Grove Collaborative? For so long, I've been wanting a natural dishwasher detergent that didn't spew out chemicals and nauseating fragrances every time I ran the dishwasher.
I finally found my answer.
It's just not right how excited I am about my natural Method dishwasher tabs! Even better, they're a solid tablet so even my 4 year old can help with the dishes. Woot!
Here are a few other household products available at Grove Collaborative.
Toilet paper and Tissue
Cleaning Supplies galore!
Dish Soap and Dishwasher Detergent
Handsoap
Laundry Detergent and Supplies
Castile Soap
Coconut Oil (new!)
Aluminum foil and Sandwich Bags
Personal Care
I have a very minimalist approach when it comes to using personal care lotions and potions, so that I can afford to get the most natural options for myself and my kids. Grove Collaborative has me covered on this with a selection of natural products for babies, kids, and adults.
Here's a sampling of the personal care products available at Grove Collaborative.
Body Wash
Lotion
Face Wash and Moisturizer
Sunscreen
Diapers and Wipes
Feminine Products
Shampoo and Conditioner
Toothpaste
Vitamins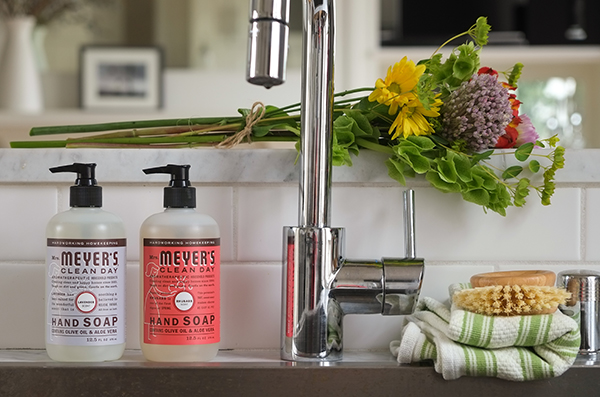 What about shipping costs?
Shipping with Grove Collaborative is always $2.99, unless you decide to enroll in their VIP program. You can minimize shipping costs by stocking up with a big order all at once and then spacing out your next order for a longer time. (This is super easy to do.)
There is a minimum shipment size of 5 products, but again, your shipping cost will go farther if you order more products less frequently.
The cost for me to drive to Target from my house is about $4.60. Plus, Grove Collaborative offsets the carbon used to ship all their products.
The scoop on the subscription thing
With Grove Collaborative subscription service you get all your natural household supplies, cleaning products, and personal care products to your door exactly when you need them.
When you first create your account, you go through a little questionnaire that helps them anticipate exactly what types of products you like and how many you'll need based on your household size.
Cool right?
You can even tell them if you're more interested in saving money or buying the most natural products available.
Then they will suggest the right products for you, and I don't say that lightly. I went through the process and took a look at their suggestions. Then of course I had to go in and look at all the other products they have available and their prices.
Guess what. They were right on with what I needed. So if you're crunched for time, I'd recommend just taking their word for it and follow their suggestions.
You can create your account and go through their questionnaire, and see their suggestions before you ever commit to signing up. If you like what you see, then you can go ahead and place your first order (but be sure to claim your freebie below).
Then you'll get all your goodies delivered to your door when you need them. Never run to the store because you ran out of shampoo, or diapers, or whatever, again!
It is way better than what you probably think of with traditional subscription services. Your Grove Collaborative is fully customizable, so you only get what you need, when you need it.
It's really easy to change your order dates, and they'll send you a reminder to review your order 10 days before they ship, so you never get something you don't want or need.
You can easily cancel via email anytime if you decide it's not working for you. They go out of their way to make the process of shopping seamless and packed with value, so that's no surprise.